Understanding and Building Metabolism
Prof. Dr. Tobias Erb
Research area
Metabolism is one of the key features of living systems. In our everyday life we experience it in different forms: Plants, algae and many microorganism perform photosynthesis and convert carbon dioxide into carbohydrates. Other organisms (including us humans) consume the fixed carbon to cover their energetic needs, which closes the global cycle of carbon.
From a scientific point of view, metabolism can be defined as the dynamic biochemistry of life that provides cells with the energy and the building blocks required for their three- and four-dimensional self-organization.
In our lab, we aim at understanding and applying the fundamental design principles of metabolism. On the one hand, we study the function and organization of natural metabolism in the context of the living cell. On the other hand, we use our understanding to build novel, synthetic metabolism in a bottom-up fashion.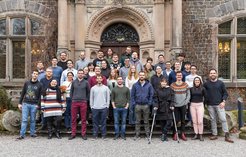 Selected Publications
Scheffen, S., Marchal, D.G., Beneyton, T., Schuller, S.K., Klose, M., Diehl, C., Lehmann, J., Pfister, P., Carrillo, C., He, H., Aslan, S., Cortina, N.S., Claus, P., Bollschweiler, D., Baret, J.-C., Schuller, J.M., Zarzycki, J., Bar-Even, A. and Erb, T.J. (2021) A new-to-nature carboxylation module to improve natural and synthetic CO2 fixation. Nature Catalysis 4, 105-115
[link]
Miller, T.E., Beneyton, T., Schwander, T., Diehl, C., Girault, M., McLean, R., Chotel, T., Claus, P., Socorro Cortina, N., Baret, J.-C. and Erb, T.J. (2020) Light-powered CO2 fixation in a chloroplast mimic with natural and synthetic parts. Science 368, 649-654
[link]
Schada von Borzyskowski, L., Severi, F., Krüger, K., Hermann, L., Gilardet, A., Sippel, F., Pommerenke, B., Claus, P., Socorro Cortina, N., Glatter, T., Zauner, S., Zarzycki, J., Fuchs, B.M., Bremer, E., Maier, U.G., Amann, R.I. and Erb, T.J. (2019) Marine Proteobacteria metabolise glycolate via the β-hydroxyaspartate cycle. Nature 575, 500-504
[link]
Stoffel, G. M. M., Saez, D. A., DeMirci, H., Vögeli, B., Rao, Y., Zarzycki, J., Yoshikuni, Y., Wakatsuki, S.,Vöhringer-Martinez, E., Erb, T. J. (2019) Four amino acids define the CO2 binding pocket of enoyl-CoA carboxylases/reductases. PNAS 116, 13964-13969
[link]
Schwander, T., Schada von Borzyskowski, L., Burgener, S., Cortina, N.S., and Erb, T.J. (2016) A synthetic pathway for the fixation of carbon dioxide in vitro. Science 354, 901-904
[link]

Selected Honors
Future Insight Prize, MERCK, 2022
Prix Forcheur Jean-Marie Lehn, French Embassy in Germany, 2021
Otto Bayer Award, Bayer Foundations, 2018
VAAM-Research Award, Association of General & Applied Microbiology (D), 2017
Heinz Maier-Leibnitz-Prize, German Resarch Foundation (DFG) & German Federal Minstry of Education and Research (BMBF), 2016
C&EN "Talented 12": Up-and-coming chemists of 2015, American Chemical Society
ERC-Starting Grantee 2015
SGM-Encouragement award, Swiss Society of Microbiology, 2013
Election and appointment as member of die Junge Akademie, 2013
Poster Award 22nd Enzyme Mechanisms Conference (US), 2011
Richard I. Gumport Travel Award, University of Illinois at Urbana-Champaign (US), 2011
VAAM-PhD Award, Association of General & Applied Microbiology (D), 2010
Hans-Grisebach Prize, University of Freiburg (D), 2010
Alumni-Diploma Award, University of Freiburg (D), 2006