Small Molecules, Great Potential
New DFG Research Training Group "Microbial Nucleotide Metabolism (MiNu)" in Marburg focuses on the metabolism of nucleotides
With a total of 6.1 million euros, the Deutsche Forschungsgemeinschaft (DFG) is funding a new Research Training Group ("Graduiertenkolleg") at the Max Planck Institute for Terrestrial Microbiology and the Philipps University of Marburg. The Research Training Group (RTG) serves to promote young scientists and explores the metabolism of nucleotides as central and versatile building blocks of life.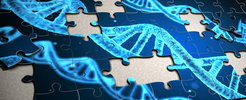 Nucleotides play a pivotal role across all areas of life, as energy carriers, molecular regulators of cellular processes, as well as being carriers of information in the form of DNA or RNA, for example. They not only encode the blueprints of life, but also control cellular processes, for example in the course of viral infections. Thus, precise knowledge of nucleotides can help develop new approaches for the treatment of diseases in the future, as has already been the case with RNA-based vaccines.
"Microbial Nucleotide Metabolism (MiNu)" was initiated by biochemist Prof. Dr. Peter Graumann from the Department of Chemistry at Philipps-Universität Marburg. It spans the disciplines of genetics, structural biology, biochemistry, microbiology, bioinformatics and synthetic/chemical biology.
Dr. Katharina Höfer, Max Planck Research group leader at the Max Planck Institute for Terrestrial Microbiology, is a Co-Applicant, alongside Max Planck Fellow Prof. Gert Bange and, in addition, Co- spokesperson of the GRK.
Within the framework of the Research Training Group, Katharina Höfer would like to investigate the impact of nucleotides on the stability of RNA in bacteria. She hopes that the insights gained in this project will also find application in the field of vaccine development in the long term. "Nucleotides already play an important part in the development of new drugs," says Katharina Höfer. "Within the Research Training Group, we aim to characterize nucleotides biochemically and train young researchers to, based on this knowledge, develop the drugs of tomorrow."
Gert Bange adds: "Similar to us humans, bacteria have also developed mechanisms to regulate stress. Nucleotides play an important role here, because they act as molecular switches that regulate processes in the cell. The biosynthesis mechanisms of these nucleotide switches are still poorly understood. This is where our research comes in: We want to understand how nucleotides are produced in the bacterium and how they can regulate bacterial processes as molecular switches under stress conditions."
The aim of a DFG Research Training Group is to provide the doctoral researchers with intensive support in their research careers and at the same time to encourage early scientific independence. The doctoral students are trained by a highly qualified team of experienced and internationally networked researchers. The maximum duration is 9 years.