Cutting-edge Research and Training: SYNMIKRO is celebrating
Center for Synthetic Microbiology holds Symposium on the occasion of 12th anniversary
In 2010, the Center for Synthetic Microbiology SYNMIKRO started its research as a LOEWE center in the field of microorganisms. In 2020, SYNMIKRO was planning to celebrate its tenth anniversary. Due to the Corona pandemic, this event was postponed and will now be caught up with a large symposium on June 21 and 22, 2022. The public part of the symposium will start on Tuesday, June 21, 2022, from 12:00-13:15 in the lecture room of SYNMIKRO, Karl-von-Frisch-Straße 14, 35043 Marburg, Germany, as well as via livestream.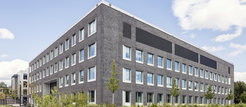 Link to the Symposium Livestream
The Managing Director of SYNMIKRO, Prof. Dr. Anke Becker, will address the center`s history and future ("The Beginning and Future of SYNMIKRO") starting at 1 pm. This includes the extremely successful development that has continued even after the state funding ended in 2019. SYNMIKRO is internationally known and visible both in terms of research and the acquisition of third-party funding, as well as a technology center and in scientific education. Since 2021, about 250 scientists have been working in SYNMIKRO's technically state-of-the-art new research building. Prof. Dr. Gert Bange, Vice President for Research at UMR, and Prof. Dr. Tobias Erb (Managing Director MPI) will speak on behalf of the two sponsors of the center, Philipps-Universität Marburg (UMR) and the Max Planck Institute for Terrestrial Microbiology (MPI), complemented by greetings from University President Prof. Dr. Thomas Nauss and Marburg Mayor Dr. Thomas Spies. The Hessian Minister for Science and Art, Angela Dorn, will greet the attendees in a video.
The scientific part of the symposium will take place on June 21, 2022 from 13:15 to 16:30 and on June 22, 2022 from 12:00 to 15:00. The entire event can be viewed via livestream at https://www.conf.dfn.de/stream/nr5obr23f7nbh. (Source: UMR Press Office)