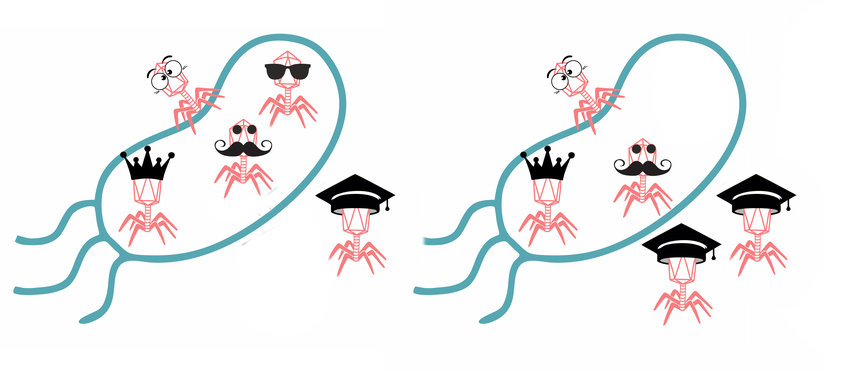 Come and join us!
WANTED! Bachelor-, Master- and Ph.D. Students!
PhD position
Understanding bacterial (epi)-transcriptomics on the level of phage-host interaction
Viral infections have affected our daily life for hundreds of years. Viruses that mainly infect bacteria are known as bacteriophages. They hijack the bacterial cell, turning it into a phage factory until the viruses eventually burst out of the bacterium. Studies providing a comprehensive understanding of phage-host interactions on a transcriptional level are missing.
In this project, we want to investigate the influence of RNA modifications and RNA processing enzymes on phage infection. The Höfer Lab is specialized in next-generation sequencing techniques to discover NAD-capped RNAs and biochemical approaches to perform functional characterization of RNA modifications in bacteria and bacteriophages. Recently, we discovered the ubiquitous redox coenzyme NAD to be attached to a specific set of regulatory RNAs in bacteria in a cap-like manner, thereby modulating the functions of these RNAs
Qualification profile
We are looking for a highly enthusiastic and motivated candidate interested in RNA- and protein biochemistry.
The successful applicant should hold a Master's degree in Molecular Biology, Biochemistry, or a related discipline. Practical experience with recombinant protein expression, Next-generation sequencing, RNA biology, or mass spectrometry are desirable. Personal initiative, creativity, team spirit, good English language skills and a profound background in molecular biology are advantageous. The position will remain open until filled, with a start date as soon as possible.
Benefits
The fellow will join a young, highly interactive, interdisciplinary and collaborative research team. As part of their PhD (3 years funded position), the candidate would join the thriving graduate community at the International Max Planck Research School in Marburg. The Max Planck Institute for Terrestrial Microbiology in Marburg is a world-leading hub of microbiology with state of the art research infrastructure and a highly stimulating intellectual environment.
Application details
Interested applicants should send a cover letter, CV and contact details of at least two referees to Katharina Höfer (Katharina.Hoefer@synmikro.mpi-marburg.mpg.de). For more information, please visit our website https://www.mpi-marburg.mpg.de/856032/Katharina-Hoefer
---