PhD students reach the finale of the global bioinnovation competition Voices of Tomorrow
How can we inform the general public of the promises, potentials and pitfalls of Synthetic Biology? Recently, Anne Löchner, Nicolas Koutsoubelis and Max Mundt took on this challenge and wrote a proposal for the Voices of Tomorrow global bioinnovation competition created by the Global Biotech Revolution. This proposal has now been selected for the GapSummit, which is the finale of this competition and take place April 4-6 in Cambridge, UK.
Anne, Nicolas and Max are PhD students in the Department of Synthetic and Systems Microbiology at the Max Planck Institute for Terrestrial Microbiology and do research in synthetic biology. Synthetic biology is a novel discipline that focuses on the design and engineering of biological systems to improve our understanding of how these systems function and to improve their potential for applications. Synthetic biology is not only debated for its promises and potentials but also for its pitfalls. "We decided to participate in this competition because we believe that the public perception will play a major role for bringing synthetic biology solutions to application" explain Anne, Nicolas and Max, and. The three PhD students were able to convince the jury with a written proposal on how to improve the awareness and public perception of synthetic biology and were selected to be among the final 100 young "leaders of tomorrow" to participate in the GapSummit. "In our action plan we identified stakeholder groups that are crucial to shape the public perception of science and devised strategies to make them familiar with synthetic biology" explain the three students. In April Anne, Nicolas and Max will have the opportunity to pitch their ideas to a panel of business representatives at the GapSummit in Cambridge.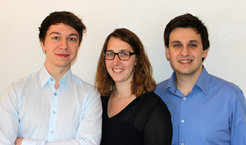 The bioinnovation competition "Voices of Tomorrow" has been created by Global Biotech Revolution, a nonprofit organization that strives to support breakthrough solutions to future bioeconomy challenges. The GapSummit is an international future leadership conference in biotechnology and the flagship event of Global Biotech Revolution.
For more information, see http://globalbiotechrevolution.com/
The Department of Synthetic and Systems Microbiology at the Max Planck Institute for Terrestrial Microbiology was established with funding from the LOEWE (Landes-Offensive zur Entwicklung Wissenschaftlich-ökonomischer Exzellenz) Excellence Programme in Hessen. The Department is part of the LOEWE Research Center for Synthetic Microbiology (SYNMIKRO). For more information about SYNMIKRO, see http://www.synmikro.com/en/
For more information about the Department of Synthetic and Systems Microbiology, see http://www.mpi-marburg.mpg.de/sourjik/