Berufung von Prof. Dr. Martin Thanbichler zum Max Planck Fellow
Martin Thanbichler, Professor für Mikrobiologie an der Philipps-Universität Marburg, ist in der Ausschreibungsrunde 2015 vom Präsidenten der Max-Planck-Gesellschaft, Prof. Dr. Martin Stratmann, zum Fellow am Max-Planck-Institut (MPI) für terrestrische Mikrobiologie ernannt worden.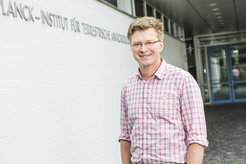 Die Max-Planck-Gesellschaft würdigt damit seine wissenschaftlichen Leistungen auf dem Gebiet der mikrobiellen Zellbiologie. Mit seiner neuen Funktion als Max-Planck-Fellow soll Martin Thanbichler die ohnehin schon sehr gute Zusammenarbeit zwischen der Universität und dem MPI weiter intensivieren und wird dabei eine eigene Arbeitsgruppe am MPI leiten.
Die Berufung ist eine besondere Auszeichnung, die auf fünf Jahre befristet ist und nur wenigen exzellenten Wissenschaftlern verliehen wird. Durch sie können herausragende Hochschullehrer/Innen besser an die Max-Planck-Gesellschaft angebunden werden, um so Kooperationen zu stärken oder zu initiieren. Martin Thanbichler wurde durch das MPI in Marburg für das Max-Planck-Fellow-Programm nominiert und durchlief einen strengen Auswahlprozess bei der Max-Plack-Gesellschaft.
Bereits seit 2007 ist Martin Thanbichler mit dem MPI in Marburg verbunden. Er leitete dort für insgesamt 7,5 Jahre eine der angesehenen Max-Planck-Forschungsgruppen und erhielt parallel dazu im Jahr 2008 eine Juniorprofessur an der Philipps-Universität, wo er seit 2014 als Professor für Mikrobiologie tätig ist. Nach der Aufnahme seiner Tätigkeit in Marburg hatte Martin Thanbichler eine wichtige Funktion bei der Etablierung des Forschungsgebietes der Prokaryotischen Zellbiologie am MPI und der Philipps-Universität eingenommen. Jüngst hat auch der wissenschaftliche Fachbeirat des Marburger MPI seine Forschungsleistungen als herausragend klassifiziert.
Seit der Gründung des MPI Marburg im Jahr 1992 kooperieren Wissenschaftler des MPI und der Philipps-Universität eng miteinander. Diese Kooperationen werden derzeit vor allem durch den SFB987 "Microbial Diversity in Environmental Signal Response" und gemeinsame Graduiertenprogramme, wie beispielsweise die "International Max Planck Research School for Environmental, Cellular and Molecular Microbiology" gestärkt. Desweiteren haben die Philipps-Universität und das MPI mit finanzieller Unterstützung durch das hessische Exzellenzprogramm LOEWE gemeinsam das Zentrum für Synthetische Mikrobiologie (synmikro) ins Leben gerufen. Zusammen bilden diese drei Einrichtungen heute eines der größten Zentren mikrobiologischer Forschung in Europa.
Die Berufung von Martin Thanbichler zum Max-Planck-Fellow bietet einen idealen Ausgangspunkt für weitere erfolgreiche Kooperationen zwischen der Universität und dem MPI. So bahnt sich beispielsweise eine zukunftsträchtige, interdisziplinäre Zusammenarbeit von Forschungsgruppen des MPI für terrestrische Mikrobiologie und der Philipps-Universität mit Kollegen an der Ludwig-Maximilians-Universität, der Technischen Universität und des MPI für Biochemie in München sowie der Justus-Liebig-Universität in Gießen an, in der Martin Thanbichler als Koordinator eines Projektvorschlags für einen DFG-geförderten Sonderforschungsbereich/Transregio "Spatiotemporal dynamics of bacterial cells" eine tragende Rolle einnimmt.