Katharina Höfer receives ERC Starting Grant
Research Group Leader at the Max Planck Institute in Marburg receives 1.5 Million Euros for the development of new biomolecules
Max Planck Research Group Leader Dr. Katharina Höfer and her team are on the trail of new biomolecules: the scientists have discovered how to tightly attach RNA to proteins. Now Katharina Höfer has received the prestigious ERC Starting Grant from the European Research Council.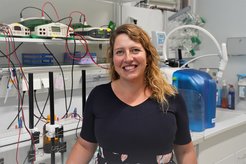 Many biology textbooks only mention the four different building blocks of RNA. In fact, there is much more to RNA than that: numerous modifications ensure that RNA can take on highly complex functions in the cell. To date, more than 160 modifications of the RNA building blocks have been identified. Katharina Höfer has investigated one such modification, NAD RNA found in bacteria. Together with colleagues, she discovered that proteins can be attached to RNA through a NAD appendage, a process the researchers call "RNAylation". The study was recently published in the journal Nature.
Now Katharina Höfer has been awarded the prestigious ERC Staring Grant to develop a basis for the development of the next generation of RNA therapeutics based on the discovery of RNAylation. "I am delighted to receive this grant. The discovery of RNAylation has opened up a new field of research for us. It allows us to pursue many new scientific approaches. With the funding from the ERC, we will use RNAylation as a new tool to design new RNA-protein compounds in the test tube."
The scientist and her team plan to establish a fundamentally new tool for regulating cellular processes based on RNAylated proteins. In the long term, this could lead to the next generation of RNA therapeutics. "We are like molecular architects who first elucidate the structural principles of RNA-protein binding," explains Katharina Höfer. "Subsequently, the RNA-ylated proteins could be transported into human cells to specifically regulate processes."
The ERC Starting Grants are one of the four major funding programmes of the European Research Council (ERC), the research funding organisation of the European Union. This year, 636 million euros have been invested in 400 outstanding projects by scientists and academics under the EU's new Horizon Europe program. The grants, averaging €1.5 million, are designed to help excellent and ambitious young researchers (2-7 years post-doctoral) to start or further develop their projects, build their teams and pursue their best ideas. The funded projects come from all research disciplines.
Dr. Katharina Höfer studied Life Sciences at the Leibniz University of Hannover and Molecular Biotechnology at the University of Heidelberg. Her research was strongly influenced by a stay at the German Primate Center in Göttingen. There she first worked with viruses and their nucleic acids (RNA and DNA). Since 2020, she has been head of the Max Planck Research Group "Bacterial Epitranscriptomics" at the Max Planck Institute in Marburg