ERC Grant for Knut Drescher
Prof. Dr. Knut Drescher receives a prestigious "ERC Starting Grant" from the European Research Council (ERC). This grant includes research funds of 1.5 million Euro and will allow Knut Drescher to investigate the interactions between bacterial communities – so-called biofilms – and viruses. Knut Drescher heads a research group at the Max Planck Institute for Terrestrial Microbiology and is also a professor of biophysics at the Philipps-Universität Marburg.
Many bacteria primarily live in surface-associated communities that are known as "biofilms". Within these biofilms, bacteria are attached to each other via an adhesive slime and display a high resistance against antibiotics. As a consequence, biofilm-bound bacteria cause a range of chronic infections in humans that are difficult to treat. It has often been neglected, however, that bacteria themselves suffer from infections, caused by viruses known as bacteriophages. Although bacteriophages are the most common replicating entities on Earth, and the interaction between biofilms and phages is therefore among the most important interactions in microbial ecology, the mechanisms and dynamics that govern this interaction are unknown. The ERC grant will fund research to understand the molecular and biophysical mechanisms that determine under which conditions phages can invade and kill biofilm-bound bacteria. The project will receive 1.5 million Euro from the ERC over the course of 5 years.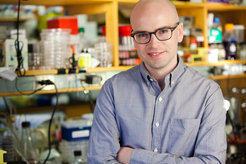 Additional Information
Prof. Dr. Knut Drescher heads the Max Planck Research Group "Bacterial Biofilms" at the Max Planck Institute for Terrestrial Microbiology and is a professor of biophysics in the faculty of physics of the Philipps-Universität Marburg. Knut Drescher studied physics in Oxford, did his Ph.D. in biophysics in Cambridge, and did postdoctoral research in Princeton, before coming to Marburg.
Max Planck Institute for Terrestrial Microbiology: http://www.mpi-marburg.mpg.de/
Philipps-Universität Marburg, Physics Faculty: https://www.uni-marburg.de/fb13
Drescher lab: http://drescherlab.org/