EU Horizon Grant for Crop4Clima
Research consortium receives EU funding to develop oilseeds with improved CO2 efficiency
The Max Planck Institute for Terrestrial Microbiology in Marburg is part of an international consortium that has received EU funding of 2.5 Mio. EUR for a period of 32 months from May 2023 to December 2025. The aim of the project is to develop new varieties of rapeseed that can absorb more carbon dioxide from the air while requiring less water and fertiliser.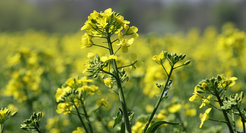 An important element in limiting global warming is the development of plants that can absorb more carbon dioxide from the atmosphere. In addition, improved tolerance of plants to drought may allow saving scarce water resources. The initiative builds on a successful proof of concept, the FutureAgriculture consortium's Gain4Crops in 2021. This demonstrated increased carbon dioxide assimilation, combined with increased drought tolerance and crop productivity, in sunflowers. Now the international consortium "Crop4Clima", comprising research institutes in Marburg, Italy and Bulgaria under the leadership of the company Evogene (Israel), is receiving EU Horizon funding to transfer the results to the economically particularly relevant oil seed rapeseed and canola and refine these further.
The project partners want to develop rapeseed that can absorb more carbon dioxide from the air and at the same time requires less water and fertiliser. The aim is to increase the biomass yield per hectare while maintaining the high oil and thus energy content of the plants, which is needed for food and biofuel. In addition to the innovative synthetic biology technologies of Evogene and the Max Planck Institute, the collaboration aims to combine interdisciplinary expertise in computational biology, chemistry, microbiology and plant physiology to address major sustainability goals.
Professor Dr Tobias Erb, Director of the Department of Biochemistry and Synthetic Metabolism at the Max Planck Institute, says: "Our research on basic building principles of microbial metabolism enabled us to develop improved mechanisms for carbon dioxide uptake. The joint project with Evogene is an important part of our efforts to create a sustainable future with the help of synthetic biology. By developing novel metabolic pathways, we aim to enable plants to make better use of cellular resources. This should help save fertiliser and water and reduce the release of CO2 in agriculture."
Eyal Ronen, EVP of Business Development for Evogene's Ag Seeds Division, added: " We are also excited to be working in this consortium with the Max Planck Institute for Terrestrial Microbiology, which is very much a global scientific leader in the field of environmental and synthetic biology. This win reflects our expertise in synthetic and computational biology and our ability to develpoeinnovative new products."
The EU Horizon Programme is part of the EIC 2022 Programme, which aims to support ventures that address the challenges of climate change. Other partners in this project are IN Society, an Italian non-profit organisation that analyses the impact of new technologies on society, and Agrobioinstitute, an agricultural academy in Sofia, Bulgaria.