Regine Kahmann elected to the American Academy of Arts & Sciences
Nomination by the Academy honours outstanding achievement, innovation and leadership
Regine Kahmann is Director Emerita of the Max Planck Institute for Terrestrial Microbiology and has dedicated her research career to the interactions of fungal plant pathogens and their host plants. Her research is considered groundbreaking for developing new strategies to combat plant pathogens in the future.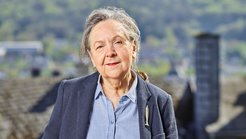 Working with the model system of the maize blight fungus Ustilago maydis, she succeeded in showing how the fungus infects plant cells and which proteins help it to undermine plant defenses by manipulating the maize plant in such a way that it supports the growth and development of the fungal pathogen.
Now Regine Kahmann has been appointed a member by the prestigious American Academy of Arts & Sciences, along with 268 other new members worldwide. With her election, she joins a remarkable society - from the earliest members Alexander Hamilton and George Washington to Nelson Mandela, Madeline Fulbright and Michelle Obama. "It is a great pleasure and honour for me to be inducted into the American Academy of Arts - especially considering that Ustilago maydis has never been a classical model organism. In the last 10 years, at the Max Planck Institute and in cooperation with groups at the University of Marburg, we have gained completely new insights into how the fungus specifically intervenes in plant processes and that it has developed its own machinery for introducing proteins into plant cells. I am happy that the Academy has honoured these efforts. " says Regine Kahmann.
Regine Kahmann received her PhD from the Free University of Berlin. Her postdoctoral work took her to Cold Spring Harbor Laboratory on Long Island. After a professorship in genetics at LMU Munich, she moved to Marburg in 2000 as director of the Max Planck Institute for Terrestrial Microbiology, where she also held a university professorship. She has been awarded numerous prizes during her scientific career, including the Leibniz Prize. In 2020, she was elected an expatriate member of the British Royal Society, and in 2021 member of the National Academy of Sciences.
The induction will take place on 29 September at a festive ceremony in Cambridge, MA, where the Academy's headquarters are located. The Academy's goal is to explore new ideas, address issues of importance to the nation and the world, and work together to cultivate, as its charter states, "every art and science which may contribute to the advancement of the interest, honour, dignity and happiness of a free, independent and virtuous people".