Tobias Erb elected as EMBO Member
We are happy to announce that our MPI Director Tobias Erb is a newly elected member of the European Molecular Biology Organization (EMBO). He is joining a group of more than 1800 of the best researchers in Europe and around the world.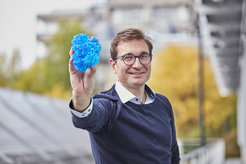 Tobias Erb joined the Max Planck Institute for Terrestrial Microbiology in Marburg as a group leader in 2014 and has been Director and Head of the Biochemistry and Synthetic Metabolism department since 2017. The laboratory of Tobias Erb interfaces biology and chemistry and centers on the discovery, function and engineering of novel CO2 converting enzymes and their use in engineered and artificial photosynthesis.
In their research, Tobias Erb and his team cross scales: From the molecular mechanisms of microbial CO2 fixation to their ecological relevance, and from understanding the natural evolution of CO2 fixation to developing new-to-nature solutions. In close collaboration with scientists from all over the world, they succeeded in engineering synthetic alternatives that work more efficiently than naturally evolved ones - for example, a synthetic photosynthesis that binds the greenhouse gas CO2 more efficiently than plants.
This year, the European Microbiology Organisation (EMBO) has bestowed Tobias Erb the lifetime EMBO Membership. The Membership honours distinguished scientists who have made outstanding contributions to the life sciences and is regarded as a recognition of scientific excellence throughout the world.
"This is a great honor and I am very excited to become a member of this distinguished European network", says Erb. "This is a unique opportunity for me and my team to build more connections and collaborations across Europe and further advance science."
EMBO´s more than 1,800 members are elected by peers. Members participate, for example, by serving on the Council and committees, mentoring young scientists, or supporting the promotion of science policy. Collectively, they influence the direction of European science and strengthen research communities across Europe. This year there are 64 new additions to EMBO's membership (55 members and 9 associate members).
"The major goals of the organisation are to support talented researchers at all stages of their careers, stimulate the exchange of scientific information, and help build an European research environment where scientists can achieve their best work." says Prof. Maria Leptin, Director of EMBO.
Tobias Erb studied biology and chemistry at the University of Freiburg and received his doctorate in 2009 while working in the laboratory of Professor Georg Fuchs. Following a postdoctoral period at the University of Illinois (USA), he headed a junior group at ETH in Zürich, before moving to the MPI in Marburg in 2014. He has been awarded the Heinz Maier Leibnitz Award from the German Research Foundation (DFG) in 2016, the VAAM Research Award in 2017, and the Otto-Bayer-Award in 2018.