Regine Kahmann becomes a member of the National Academy of Sciences
Director Emerita of the MPI and Professor at the University of Marburg receives a high honor
Regine Kahmann, Director Emerita of the Max Planck Institute for Terrestrial Microbiology in Marburg, Germany, has been appointed a foreign member of the National Academy of Sciences. By their membership the society recognizes outstanding and continuing achievement in research. It is considered one of the highest honors a scientist can receive.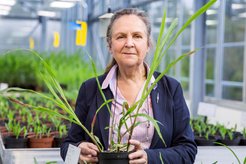 Regine Kahmann has dedicated her research to the fungus Ustilago maydis, causal agent of corn smut. Each year this plant disease destroys up to 20% of the corn crop worldwide. The Max Planck researcher spent decades investigating the molecular basis of the disease, which provided intricate insight into the highly complex interplay between a pathogen and its host and opened new paths for disease control.
" Becoming appointed as member of the National Academy of Sciences came as complete surprise to me," says Regine Kahmann. "It is, of course, a great pleasure to be honored for one`s lifetime work." She is particularly pleased that her research will continue in the hands of highly esteemed colleagues. "After all, it's never finished – a great result just catapults you a few steps up and from there one can approach the next challenges."
Regine Kahmann received her doctorate from Freie Universität Berlin. Her postdoctoral work took her to the Cold Spring Harbor Laboratory on Long Island. After a professorship in genetics at LMU Munich, she moved to Marburg in 2000 as director at the Max Planck Institute for Terrestrial Microbiology, where she also held a university professorship. She has received numerous awards during her scientific career, including the Leibnitz prize of the DFG and a foreign membership in the British Royal Society in 2020.
The history of the National Academy of Sciences began in 1863 with its signing by Abraham Lincoln. The honor society consists of leading scientists from a wide range of disciplines. The results of this year´s election were announced on April 26, 2021. Among the 120 new members this year - 30 of them international - are 59 women, the largest number ever elected in a single year.
"The historic number of women elected this year reflects the critical contributions that they are making in many fields of science, as well as a concerted effort by our Academy to recognize those contributions and the essential value of increasing diversity in our ranks," said National Academy of Sciences President Marcia McNutt. "I am pleased to welcome all of our new members, and I look forward to engaging with them in the work of the National Academies."