KIWIsome - new hope in the fight against fungal infections
European Research Council funds research on plant disease protection with
2.4 million euros
In 2019, a team of researchers led by Regine Kahmann and Gert Bange revealed the biological activity of a member of the kiwellin family, a group of proteins previously known to be allergens from kiwifruit. Now, Max Planck Fellow Gert Bange from the Center for Synthetic Microbiology and the Department of Chemistry at Philipps-Universität Marburg will take this research further: The European Research Council (ERC) is funding his project "KIWIsome - Kiwellins in the plant defense against pathogenic invaders" with 2.4 million euros over five years.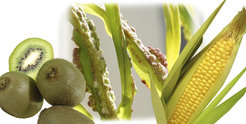 "Microbiology always offers amazing and surprising insights into processes, almost miniature parallel worlds, that usually remain hidden to us. But Prof. Bange's project is not only very fascinating, it also makes a very important contribution in the field of plant ecology. The funding from the European Research Council is a significant award that confirms how important and forward-looking this research is," says Prof. Dr. Michael Bölker, Vice President for Research and International Affairs at Philipps-Universität Marburg.
"If important crops are attacked by diseases, this can lead to significant economic damage," says Bange. One example is corn, which not only serves as a food source but is also the basis for biogas production. In the case of the corn plant, Ustilago maydis is the culprit - a highly specialized fungus that only attacks corn and significantly reduces yields through its outgrowths on the cob. During the course of corn blight infection, the fungus releases a variety of so-called effector molecules into the corn plant that support the infection and suppress the plant's immune response.
"In the KIWIsome project, we will investigate how plants can defend themselves against such molecular weapons. Kiwellin proteins will play a special role in this," says Bange.
Kiwellin proteins have antibody-like properties. There are 20 different kiwellins in corn alone. Individual kiwellins could inhibit the fungus's harmful effector molecules and thus support the plant's immune response.
Gert Bange discovered this biological function 2019 together with Max Planck researcher Regine Kahmann, at that time director of the Max Planck Institute for Terrestrial Microbiology. Already back then, the researchers suspected a wide distribution of kiwellins in the plant kingdom and pointed to future uses of these substances as an alternative to fungicidal pesticides.
Within the KIWIsome project, the promising kiwellins will be identified and analyzed in more detail in order to be able to use these proteins specifically as protection for different plant species against pathogenic invaders. "The project thus offers a deeper fundamental understanding of the molecular mechanisms underlying the eternal arms race between plants and their pathogenic invaders," says Bange. In the medium term, the biotechnological use of kiwellins could also be an important alternative to fungicidal plant protection products.
(Press release, University of Marburg)
---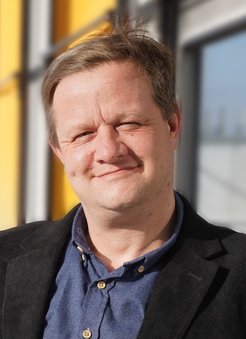 Prof. Dr. Gert Bange is a professor of biochemistry in the Department of Chemistry at the University of Marburg. He has been deputy managing director at the Center for Synthetic Microbiology (SYNMIKRO) since 2019 and is a Max Planck Society Fellow at the Marburg MPI for Terrestrial Microbiology since 2021. Bange is an expert in the fields of structural biology and biochemistry and researches, among other things, mechanisms of bacterial stress and environmental adaptation as well as the interaction between microorganisms and their hosts. Bange was also awarded the 2020 prize for excellent doctoral supervision at Philipps-Universität Marburg.
ERC Advanced Grants: The European Research Council (ERC) offers excellent researchers from all disciplines various funding opportunities for innovative projects. The ERC Advanced Grants support outstanding active scientists who can demonstrate a significant research history over the past ten years.