On the Search of Structural Revelations
Gert Bange becomes new Max Planck Fellow at the MPIterMic
The Max Planck Fellow Program promotes collaboration between outstanding university teachers and Max Planck scientists. Gert Bange is thus the second Max Planck Fellow at the Institute, alongside Martin Thanbichler.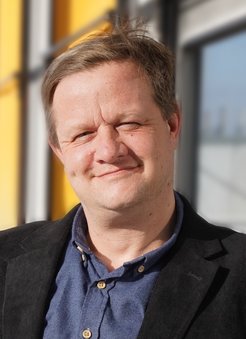 Professor Gert Bange has been appointed "Fellow" at the Max Planck Institute for Terrestrial Microbiology by the Max Planck Society. He is Professor of Biochemistry at the Department of Chemistry and Deputy Managing Director at the Center for Synthetic Microbiology (SYNMIKRO) at Philipps University Marburg. His team works in the fields of structural biology and biochemistry; its research focuses on the study of molecular machines, mechanisms of bacterial stress and environmental adaptation, and interactions between microorganisms and their hosts.
Structural biology is about understanding how biomolecules work through the most precise elucidation of their structures, explains Gert Bange. "That`s the beauty of structural biology: it's concrete. You see what you see."
From what they see, he and his colleagues derive correlations and connections, plan experiments, generate hypotheses. Sometimes the results quite unexpectedly trigger further research. "I'm not attached to a particular field of research per se, but rather interested in news." This curiosity first struck him as a young enzymologist who wanted to explore how electron transfer occurred in enzymes. In order to learn the techniques of structural biology - at that time mainly X-ray crystallography - he went to Heidelberg, Germany, to study with Irmgard Sinning.
Today, Kryo-electron microscopy has entered the stage as a strong complementary method. Currently, Gert Bange directs the establishment of a Cryo-EM that will enable the researchers to address also larger particles that do not crystallize. "Through Kryo-EM, we gain a very precise idea of where which amino acid is located, and that knowledge launches very good new studies. Based on what you see, you can generate a new hypothesis. That has always been the attraction," explains Gert Bange.
For him, structural biology is not just very detailed research, but on the contrary, like synthetic biology, a key to the big questions in the life sciences. If you take something apart and put it back together in a way that makes it work, says Gert Bange, then you have truly understood its principle.
Due to the close cooperation between the University of Marburg, the SYNMIKRO Center and the MPIterMic, there are already strong ties with scientists at the Max Planck Institute. For Gert Bange, the Max Planck Fellowship means an intensification of these relationships - and also the necessary scientific freedom, as he says. "The fellowship and the funding from the MPG enable us to tackle new projects that can lead to third-party funded projects in two or three years, but first need start-up capital. At the MPI, there are researchers who understand each other, complement each other, and work on mutual questions. And that's how it happens."
The "Max Planck Fellows" program aims to strengthen cooperation between universities and Max Planck Institutes by enabling outstanding university teachers to deepen their research at a Max Planck Institute: In addition to their chair at the university, they are given an additional working group at a Max Planck Institute.The Max Planck Society's Fellow Program serves to promote targeted networking in the science system at the respective locations.