Humboldt Research Award winner joins the Max Planck Institute for
Terrestrial Microbiology
Prof. Dr. Barry Scott from Massey University in Palmerston North, New Zealand, has received a Humboldt Research Award and will join the institute between April and July 2015 and again between April and July 2016.
Barry Scott is Professor of Molecular Genetics at Massey University and will work in the research group of Regine Kahmann. His research focuses on understanding the molecular basis of agriculturally beneficial symbiotic interactions between plants and microbes. He was elected a fellow of the Royal Society of NZ in 2010. Barry is a principal investigator in the Bio‐Protection Research Centre, a national centre of research excellence. He was awarded the New Zealand Association of Scientists Marsden Medal (2013). He is a Director of New Zealand Genomics Ltd.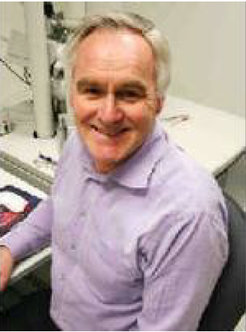 Professor Scott's major area of research is fungal‐plant symbiosis. His group is interested in understanding the molecular and cellular basis for establishment and maintenance of the symbiosis between the grass endophyte Epichloe festucae and perennial ryegrass. A defining feature of this symbiosis is the production by the fungus in planta of a number of unique secondary metabolites which provide bioprotective benefits for the symbiosis. The Scott laboratory have cloned many of the genes involved and have elucidated the pathways for the biosynthesis of these compounds. Their current interest is identifying the signalling mechanisms that result in specific activation of the genes for these pathways in the grass host. Another major programme is identifying the signalling pathways that control growth of the endophyte in the host to maintain a stable and beneficial symbiosis.
For further information please contact Regine Kahmann.