The lab of tomorrow: lab 4.0
MPI research team worked with industry partner to develop fully automated and autonomous laboratory instruments
A team from the MPI for Terrestrial Microbiology has developed new laboratory technology in collaboration with the Esslingen-based company Festo. At the Hannover Messe, they have now introduced them to the public - Robert Habeck, the German Minister for Economics and Climate Protection, also congratulated the bionics team on their work.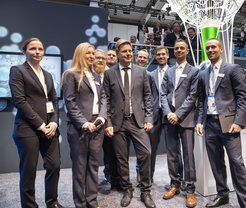 What will the biological research lab of the future look like? As of today, laboratory work still requires manual steps and direct human interference with experiments, at the cost of time and effort. One vision of the future is an automated lab that supports the researchers in their experiments through smart, autonomously operating and communicating instruments, which would allow the scientists to focus on their key tasks. This concept is known as lab 4.0.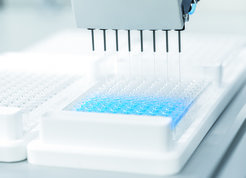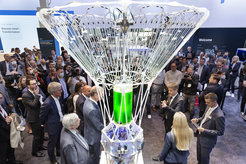 In a collaboration with Festo, an industrial control and automation company based in in Esslingen, a team of the MPI for terrestrial Microbiology developed and tested new lab instruments and devices, which they presented to the public at the Hanover fair. One of these instruments is an automated dispenser for the parallel operation of hundreds of experiments in minimal volumes that can be operated intuitively through a touch-screen interface. The eye-catcher in Hanover, however, was the PhotoBionicCell. The fully automatized photobioreactor cultivates microalgae, which capture the greenhouse gas CO2 and convert it into biomass. The bioreactor features a passive cooling technology, a special gassing unit to control the input of air and CO2 into the reactor and a full set of real-time sensors to grow the algae always at optimum conditions. The suspension is circulated by a set of angled injector jets, which keep the liquid in constant movement. Through an augmented reality-interface, the user can access all parameters and monitor the reactor in real-time.
The PhotoBionicCell received a lot of attention by the visitors, among them the German Minister for Economic Affairs and Climate Action, Robert Habeck congratulating the Bionics-team of Festo and the researchers of the MPI for their work.
Maren Nattermann, Max Planck Scientist from the Department of Biochemistry and Synthetic Metabolism Modern, found it very exciting to be actively involved in designing new instruments for a smart lab. "Life sciences, and in particular synthetic biology, will require an ever increasing degree of parallelization and automation." Her colleague Pascal Pfister adds: "Working together with engineers to develop the concept for a new bioreactor that collects real-time data and automatically controls the cultivation conditions was a great experience and opens new opportunities to translate our knowledge from small scale cultivations to industrial applications".