Prof. Dr. Tobias Erb was awarded the German-French Research Prize
Together with cooperation partner Jean-Christophe Baret, the Max Planck Director was honored for his work on the creation of new CO2-fixing enzymes and artificial chloroplasts.
The "Forcheurs Jean-Marie Lehn Prize" is awarded to promising collaborations between French and German researchers in the fields of health, pharmacology or chemistry. The name of the prize is a combination of the German word "Forscher" and the French word for researcher "chercheur". It refers to the scientists who collaborate daily on both sides of the Rhine.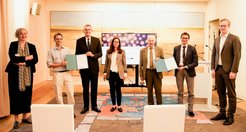 The award was presented on September 27, 2021 by Emmanuel Cohet, envoy of the French Embassy in Germany. The ceremony was attended by about 30 leading figures in research and university education, as well as members of French and German civil society. Professor Jean-Marie Lehn, the award's benefactor, was also present, as were representatives of the Franco-German University, co-organizer of the event, and of the sponsors BASF France and Sanofi Germany.
The laboratories of Jean-Christophe Baret at the University of Bordeaux and Tobias Erb at the Max Planck Institute for Terrestrial Microbiology in Marburg focus on the building of artificial cells, using an interdisciplinary approach at the interface between physics, chemistry, biology and engineering.
The Baret laboratory in France has developed microfluidic technologies for the fabrication and assembly of cell-sized micro-components that form the "hardware" of artificial cells.
The "software" that works inside the artificial cells is assembled with synthetic biology approaches from various enzymes by Tobias Erb's lab. By combining microfluidics and synthetic biology, the researchers have succeeded in creating an artificial chloroplast that captures and converts CO2 using light, thus copying and even improving on the principle of natural photosynthesis.
Erb and Baret's work demonstrates the potential of synthetic biology and is a step forward in the development of artificial cells that potentially offer more efficient alternatives to natural metabolism or perform (bio)chemical tasks that natural cells are not capable of. In the future, artificial cells could find application in virtually all areas of engineering, including biotechnology, chemical synthesis, and medicine.
About the award
The "Jean Marie Lehn Forcheurs Prize" recognizes the most promising collaborations between French and German researchers in the fields of health, pharmacology or chemistry. It is jointly organized by the Department of Science and Technology of the French Embassy in Germany and the Franco-German University of Applied Sciences and is awarded to young researchers to promote scientific cooperation between France and Germany. Applications are evaluated by a jury composed of members of the Paris Academy of Sciences and the Leopoldina (the German Academy of Sciences). The patron of the prize is Professor Jean-Marie Lehn.
Source: Science portal of the French Embassy in Germany