Dr. Lennart Randau
Curriculum Vitae
Lennart Randau (born 1978)
Diplom (Biology), TU Braunschweig, Germany, 2002
Ph.D. (Dr. rer. nat.), TU Braunschweig, Germany, 2006
Post-doc, Yale University, USA, 2006 - 2010)
Head of the Max Planck Research Group "Prokaryotic Small RNA Biology" at the MPI for Terrestrial Microbiology, Marburg, since 12/2010
Research area: Prokaryotic Small RNA Biology
Our research is aimed at understanding the processing of small RNAs involved in the defense against integrative elements (e.g. viruses) in Bacteria and Archaea. First, we investigate the RNAs that play the central role in the prokaryotic CRISPR (Clustered Regularly Interspaced Short Palindromic Repeats) immune system. Second, we study the evolution of diverse disruptive elements within archaeal transfer RNA (tRNA) genes. These systems will be exploited for the modulation of prokaryotic immunity and the creation of gene knock-down technology. Our research uses an interdisciplinary approach combining computational, biochemical and microbiological techniques.
More about "Prokaryotic Small RNA Biology"
MPI homepage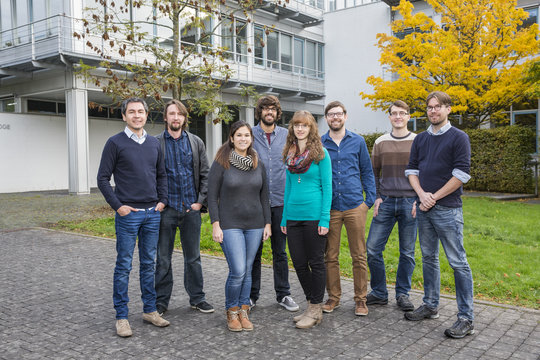 Zoom Image
The group of Lennart Randau as per October 2015
The group of Lennart Randau as per October 2015
Recent publications
Gleditzsch, D., Müller-Esparza, H., Pausch, P., Sharma, K., Dwarakanath, S., Urlaub, H., Bange, G. and Randau, L. (2016) Modulating the Cascade architecture of a minimal Type I-F CRISPR-Cas system. Nucleic Acids Res. [in press]
Plagens, A., Daume, M., Wiegel, J. and Randau, L. (2015) Circularization restores signal recognition particle RNA functionality in Thermoproteus. eLIFE, 10.7554/eLife.11623

Dwarakanath, S., Brenzinger, S., Gleditzsch, D., Plagens, A., Klingl, A., Thormann, K. and Randau, L. (2015) Interference activity of a minimal Type I CRISPR-Cas system from Shewanella putrefaciens. Nucleic Acids Res [in press].

Dennis, P., Tripp, V., Lui, L, Lowe, T. and Randau, L (2015) C/D box sRNA-guided 2'-O-methylation patterns of archaeal rRNA molecules. BMC Genomics [in press].

Plagens, A., Richter, H., Charpentier, E. and Randau L. (2015) DNA and RNA interference mechanisms by CRISPR-Cas surveillance complexes. FEMS Microbiol Rev, 39, 442-463.

Randau, L. (2015) Evolution of small guide RNA genes in hyperthermophilic archaea. Ann N Y Acad Sci, 1341, 188-193.