Dr. Tobias Erb
Curriculum Vitae
Tobias Jürgen Erb (born 1979)
Diploma in Biology, University of Freiburg (D), 2005
Magister scientiarum in Chemistry & Biology, University of Freiburg (D), 2005
Visiting scholar, The Ohio State University (US), 2007
Dr. rer. nat., Institute of Microbiology, University of Freiburg (D), 2009
DFG-Postdoctoral fellow, University of Illinois (US), 2009-2011
ETH-Fellow, Institute of Microbiology, ETH Zürich (CH), 2011-2012
Jr. Group leader & SNF-Ambizione fellow, ETH Zürich (CH), 2012-2014
Elected member of the Junge Akademie at the BBAW and Leopoldina 2013
Max Planck Research Group Leader (free floater) at the MPI Marburg, 2014-2017
Director and Head of the Department of Biochemistry and Synthetic Metabolism at the MPI Marburg, since 2017
.
Research area: Biochemistry and Synthetic Metabolism
"Understanding life is impossible without understanding the biochemistry of microbes."
Microorganisms represent the majority of species on Earth and exceed all other life forms in number and biomass by several orders of magnitude. This makes them key players in the global cycle of elements, controlling the release and fixation of carbon, nitrogen, and sulfur.
Our research is located at the interface of microbial physiology, biochemistry, and ecology. We are driven by the desire to discover and engineer novel microbial pathways and enzymes that involve the transformation of carbon compounds, in particular acetate, methanol, methane or CO2. These compounds are central to the global carbon cycle and their conversion through microbes has a direct impact on the concentration of greenhouse gases in the atmosphere.
We currently focus on answering the following questions: How many metabolic pathways in the global carbon cycle are still undiscovered and what is their ecological importance? How do enzymes catalyze challenging reactions (e.g. the fixation of CO2) and what drives their evolution? Can we construct novel enzymes and completely novel metabolic pathways (e.g. for the efficient fixation of CO2 into value-added compounds) using the methods of synthetic biology?
More about "Biochemistry and Synthetic Metabolism"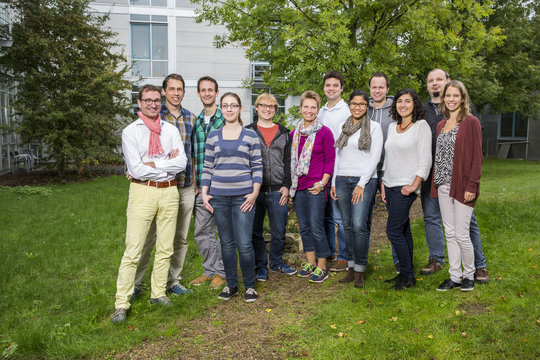 Zoom Image
The group of Tobias Erb as per October 2015
The group of Tobias Erb as per October 2015
Selected Recent Publications
Schwander, T., Schada von Borzyskowski, L., Burgener, S., Cortina, N.S., and *Erb, T.J. (2016) A synthetic pathway for the fixation of carbon dioxide in vitro. Science 354:901-904 http://science.sciencemag.org/content/354/6314/900
Rosenthal, R.G., Vögeli, B., Quade, N., Capitani, G., Kiefer, P., Vorholt, J.A., Ebert, M.-O., and *Erb, T.J. (2015) The use of ene adducts to study and engineer enoyl-thioester reductases. Nature Chemical Biology 11:398-400 http://www.nature.com/nchembio/journal/v11/n6/full/nchembio.1794.html

Könneke, M., Schubert, D.M., Brown, P.C., Hügler, M., Standfest, S., Schwander, T., Schada von Borzyskowski, L., Erb, T.J., Stahl, D.A. and Berg, I.A. (2014) Ammonia-oxidizing archaea use the most energy-efficient aerobic pathway for CO2 fixation. Proceedings of the National Academy of Sciences 111:8239-8244 http://www.pnas.org/content/111/22/8239

Rosenthal, R.G., Ebert, M.-O., Kiefer, P., Peter, D.M., Vorholt, J.A. and *Erb, T.J. (2014) Direct evidence for a covalent ene adduct intermediate in NAD(P)H-dependent enzymes. Nature Chemical Biology 10:50-55 http://www.nature.com/nchembio/journal/v10/n1/abs/nchembio.1385.html

Erb, T.J., Evans, B.S., Kyuil, C., Warlick, B.P., Sriram, J., Wood, B.M., Sweedler, J.V., Tabita, F.R., Gerlt, J.A. (2012). A RubisCO-like protein links SAM metabolism and isoprenoid biosynthesis. Nature Chemical Biology 8:926-923 http://www.nature.com/nchembio/journal/v8/n11/full/nchembio.1087.html

*Erb, T.J., Kiefer, P., Hattendorf, B., Günther, D., Vorholt, J.A. (2012) GFAJ-1 is an arsenate resistant, phosphate dependent organism. Science 337:467-70 http://science.sciencemag.org/content/early/2012/07/06/science.1218455
Selected Honors
VAAM-Research Award, Association of General & Applied Microbiology (D), 2017
Heinz Maier-Leibnitz-Prize, German Resarch Foundation (DFG) & German Federal Minstry of Education and Research (BMBF), 2016
C&EN "Talented 12": Up-and-coming chemists of 2015, American Chemical Society
ERC-Starting Grantee 2015
SGM-Encouragement award, Swiss Society of Microbiology, 2013
Election and appointment as member of die Junge Akademie, 2013
Poster Award 22nd Enzyme Mechanisms Conference (US), 2011
Richard I. Gumport Travel Award, University of Illinois at Urbana-Champaign (US), 2011
VAAM-PhD Award, Association of General & Applied Microbiology (D), 2010
Hans-Grisebach Prize, University of Freiburg (D), 2010
Alumni-Diploma Award, University of Freiburg (D), 2006